The IRFU should prove player welfare is their top priority by resting Johnny Sexton this Saturday, according to a leading sports scientist.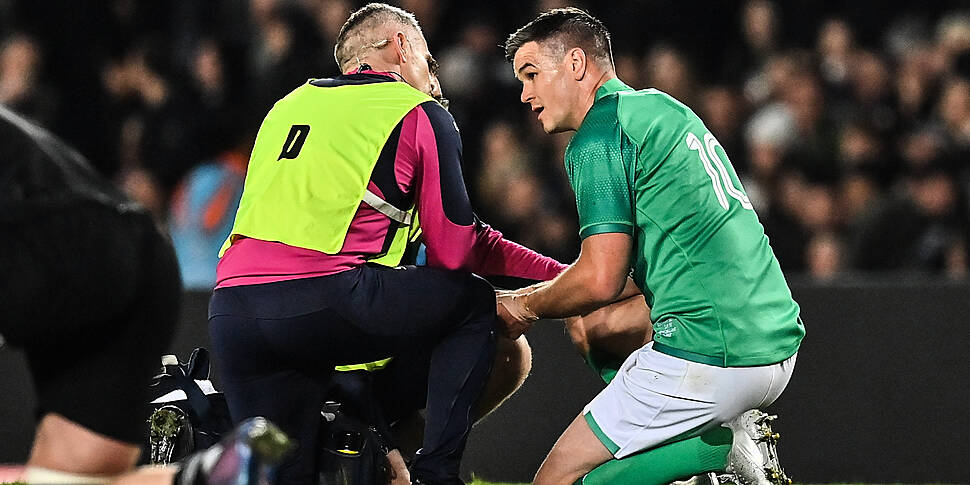 Author: Michael Staines
Article link: newstalk.com
5 JUL 2022
---
The Ireland captain failed a head injury assessment (HIA) during last weekend's first Test against New Zealand and was removed from the field of play after 30 minutes.
He has since passed two subsequent HIAs and appears to be in line to start the second Test, with Ireland Assistant Coach Mike Catt saying he is "good to go" this coming Saturday.
On The Hard Shoulder this evening, Dr Lisa Ryan, Head of the Department of Sport, Exercise and Nutrition at Atlantic Technological University said playing the Ireland star would be a missed opportunity to show we're serious about concussion.
"For all of us that love rugby, we all want Johnny Sexton to be out playing but we also want him to be healthy," she said.
Concussion
She noted that both Wales and England this week sent homes players (Tomas Francis and Tom Curry) who suffered concussions in their opening games – even though they could potentially have played later in the tour.
"I think, from our point of view, the thing we would see here is really a missed opportunity to discuss player health and maybe ask the question as to why we are forcing Johnny to go out when we know he has a previous history of concussion.
"This was an opportunity to rest him and really send the message that player welfare is at the top of our priority list."
Welfare
Dr Ryan noted that the IRFU is not doing anything wrong by playing Sexton after he passed the official protocols; however, she said the protocols themselves could be stricter and Sexton's history should be taken into account.
"We're still learning a lot about concussion and we do know that people who have a previous history of concussion take longer to recover," she said.
"Therefor, particularly with somebody like Johnny who is now 36-years-of-age, has a long playing career behind him and has suffered a number of concussions to date, we should be looking at his history and saying, is this an opportunity now, after we know that he failed an initial HIA, to give him a chance to rest?
"Why are we forcing him to go out in this second test match? We have a number of different tens that could come in and take his place, in fact lots of people would like to see more players coming through.
"This was an opportunity for the IRFU to say player welfare is right at the top of our priorities."
Protocols
World Rugby recently introduced a 12-day standdown for players with concussion and Dr Ryan said she and her colleagues have been pushing for a longer period.
She said that the period in the amateur game is 21 days, noting that, "a professional brain is the exact same as an amateur brain".
"Concussion is a brain injury but because it's not a visible injury – i.e. it's not like a broken leg or a broken arm where it is very obvious to somebody – it can be hidden.
"That means that we need to be very, very careful in how we manage players.
"We're beginning to see long-term damage in terms of brain injury. That's not to scaremonger but what we must do is make sure we're looking after player welfare so that we're minding people as best we can to make sure their long-term health isn't compromised."