Sports Concussion Conference – 23rd September 2022
Interested in learning how we can work together to better protect our athletes and help everyone feel safe playing and enjoying sport?
If so, register now to attend the free 'Heads Together!' concussion awareness conference held at ATU, Galway, Ireland, on Friday the 23rd of September 2022.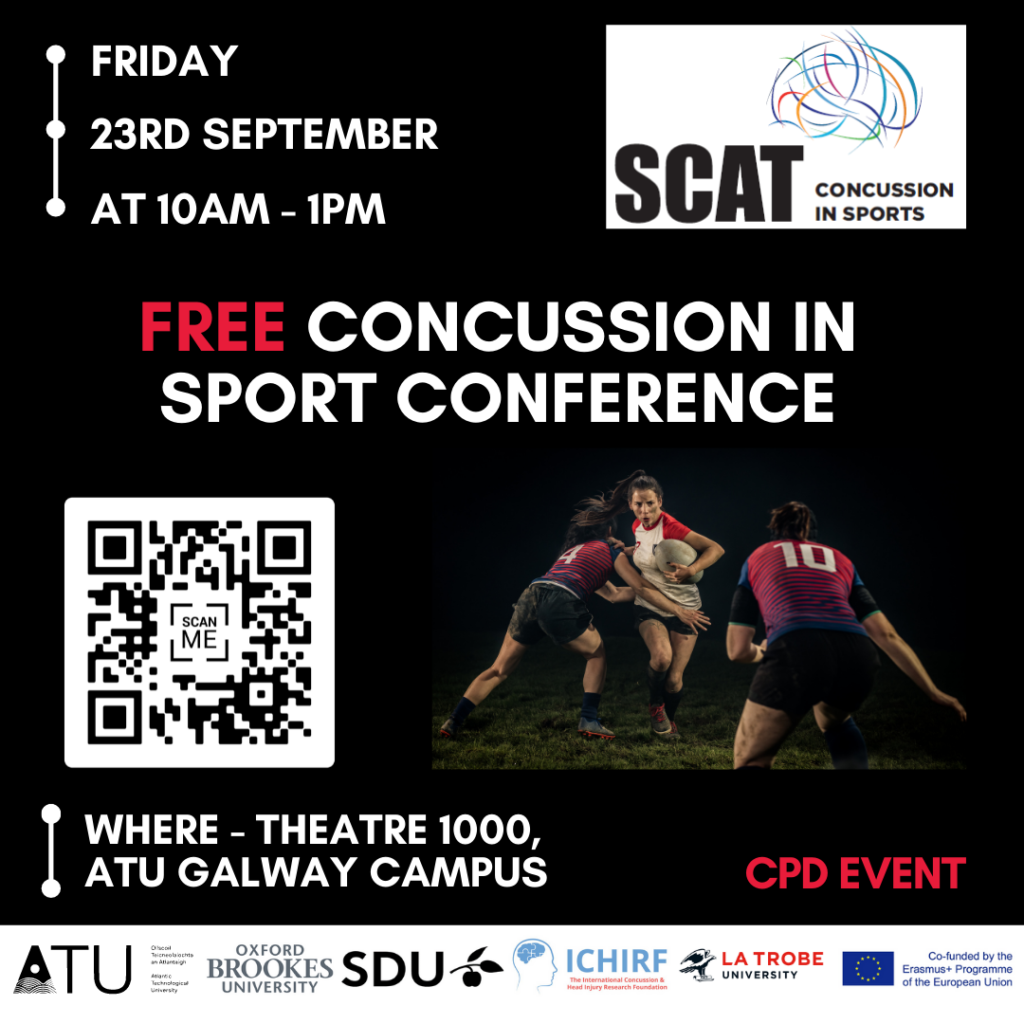 This conference is part of the European Erasmus+ "Get your head in the game – SCAT" project led by ATU, Galway. The aim of the project is to provide an in-depth understanding of the definition and implications of concussion in amateur sports settings across Europe.
Concussions are often referred to as the 'invisible injury' because you cannot see a concussion, unlike a broken arm or leg. A concussion can affect all age groups, as we can all be at risk of damaging our brains following triggering events (i.e. a fall, bang of heads playing tag in the schoolyard, or players colliding on the sports field). These events can result in a wide range of short and/or long-term concussive symptoms.
Further Event Information:
The event will provide attendees with the opportunity to engage with leading experts from across Europe in concussion research.
We will uncover the latest education and management measures available on concussion injuries in contact sports, applicable to community and amateur settings. During this session, we will explore gender considerations regarding concussion injuries in contact sports and obtain a real-life perspective from athletes and coaches who have experienced concussion injuries during the live panel discussion.
All attendees in the audience are invited to join in on this.
This is a free event taking place on Friday the 23rd September, on the Atlantic Technological University(ATU), Galway City Campus in Theatre 1000, doors open at 10.00am.
Spaces are limited, so please register here to avoid disappointment. This ticket is for In-Person attendance.
If you are unable to attend in-person, please let us know by contacting us via email – emma.finnegan@atu.ie.
For more information about the project visit the SCAT Project website
#HEADSTOGETHER2022